Volunteer with us and make a difference
Our volunteers enhance the quality of life for people who use our services, and we are keen for people from all sections of the local community to be involved in our work. We greatly value the contribution our volunteers make and know they are an integral part of the services we provide.
There are many reasons why you might choose to become a volunteer. It might be to gain experience before applying for a job in a particular field or because you have recently retired and are looking for ways to keep busy and give something back to your community.
People who have used our services sometimes return to us as volunteers, which can be a really useful way of regaining lost confidence or gaining experience before returning to employment.
If you are interested in becoming a volunteer you can find out more by reading our information sheet. To apply please complete our volunteer application form.
What are we looking for in our volunteers?
As you will be representing our organisation, our volunteers must have some special personal qualities:
Commitment, reliability and flexibility
A non-judgemental attitude
An understanding of the importance of patient confidentiality
Being trustworthy and responsible
Kindness, respect and a friendly manner
For some roles our volunteers are given specific training or need to show they have the relevant skills, experience or interest in the position.
If you are on benefits, you can volunteer with us but may need to remain available for work. Please check with JobCentre Plus to see how volunteering affects your individual circumstances.
What type of work can I do?
You can help by doing anything that enhances people's lives. The hours and days of volunteering offered vary but can often be tailored to your availability.
If you have a specific voluntary role in mind then mention it in your initial application to us and we will try to match you up with a role. If you are flexible about the type of work you can do then we will discuss all available options with you when you contact us and try to find you a suitable role.
Will I be out of pocket?
Volunteers are entitled to the reimbursement of expenses you have to pay as a result of your volunteering activities. That might include travel costs from your home to where you do your voluntary work.
What happens next?
If successful, we undertake various checks before you can start volunteering with us:
A Disclosure and Barring Service check (DBS, formerly known as a CRB or Criminal Records Bureau check). Details can be found on the DBS section of the Government's website
A right to work check
An Occupational Health check
We also ask for two references who can vouch for your application and we need to see original documents that provide evidence of your identity and address.
We may do other checks, depending on your individual circumstances.
Get in touch
If you'd like to have an informal chat about the opportunities available and how you might volunteer please give us a call or email us on:
Tel: 01372 216 184
Email: volunteers@sabp.nhs.uk

Post:
Joanne Massey Shand
Involvement & Volunteering Manager
Surrey and Borders Partnership NHS Foundation Trust
18 Mole Business Park,
Randall's Road,
Leatherhead,
Surrey,
KT22 7AD
Meet David, a Recovery College volunteer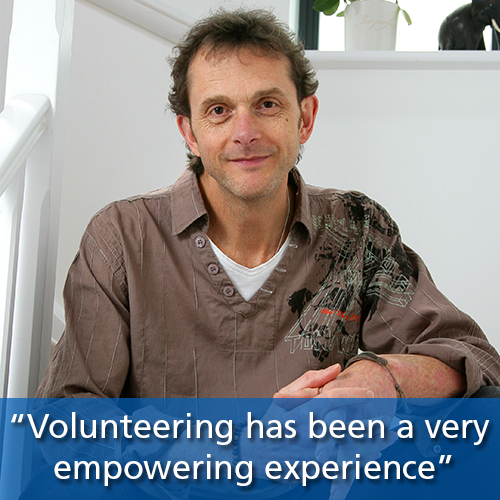 David has previously used our services and now uses his skills and passion for recovery as one of our Trust volunteers.
He has put his energy into many projects, including peer mentoring, and has made valuable contributions to the Trust's Recovery Groups.
His passion and enthusiasm in encouraging and supporting new volunteers and staff has seen him win three times at our staff CARE awards.
Colleagues describe David as open minded, with a never ending commitment to improving the experiences of people who use services. David questions the accepted way of doing things so that we find alternative, more innovative ways of delivering services and we greatly benefit from his outside the box thinking.
For David, volunteering has been an empowering experience that has helped his recovery. He says: "One of the pieces of work I do regularly, which I am extremely proud of, is to talk to new staff during their Trust induction. I try and inspire them to be the best they can be from the perspective of a person with lived experience who knows the challenges of poor mental health. I love doing these talks, it is very rewarding."