Published on:
Friday 11th May 2018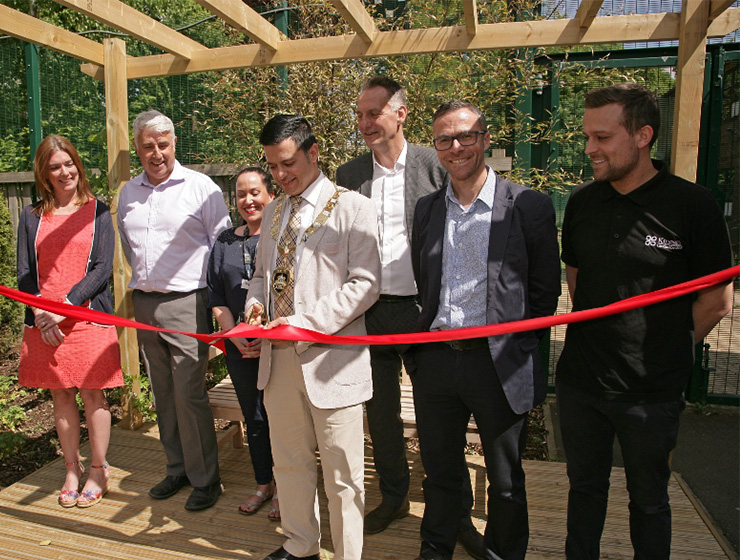 On Wednesday 9 May Surrey and Borders Partnership NHS Foundation Trust welcomed Councillor Iftikhar Chaudhri, Mayor of Runneymede, to officially open a new therapeutic garden space at a day unit for people with mental health issues. The garden has been created following a kind donation from local landscaping contractors, Kingston Landscape Group, and landscape architects, Outerspace.
The garden is part of the Acute Therapy and Diversional Activities Service, based at the Abraham Cowley Unit at the St Peter's Hospital site, which provides a combination of therapy programmes and leisure activities for people staying on the inpatient wards. The programmes are delivered by a range of professionals including psychologists, occupational therapists, and fitness and wellbeing instructors. They also offer group work and individual contact opportunities to people being supported by the Home Treatment Teams.
Steve Evans, managing director at Kingston Landscape Group said: "I regularly drive past the unit and saw the garden looking a bit sorry for itself. I thought it would be a nice gesture to make the space somewhere that people who need to regain their wellbeing can enjoy.
"It was important to me that the people who use the day unit were able to contribute their ideas about how they wanted the garden to look and feel so we fully involved them in the process and came up with the idea that the garden should resemble that of a garden at someone's home."
Jonathan Warren, Acting Chief Executive at Surrey and Borders Partnership, said: "Research shows that spending time in pleasant in outdoor spaces can improve the confidence and wellbeing of people with mental health issues. This is such a lovely gift for the people who use our services and we are very grateful for the generosity of Kingston Landscape Group and Outerspace for their time, expertise and materials to make this space a truly therapeutic environment."