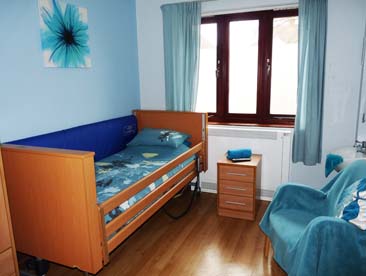 Welcome to Kingscroft, a residential short breaks service (sometimes called respite) for adults who have learning disabilities and specialist health care needs.
The home is an eight-bedded bungalow in Staines with lots of facilities to ensure that people have a welcoming and comfortable stay.
Our team of skilled staff are experienced at delivering high quality, person centred care. Established in 1987, we have cared for over 300 people.
Find out more about our approach and how to make a referral below.
Our approach
Kingscroft provides families and carers with a well-earned break and people who have a learning disability with a chance to experience some time away from home, to meet other people, to have fun or just relax.
Our approach is to provide a home from home and follow people's usual daily routine during their stay. For example, we will support people to visit their day care centre or external activity if that's what they normally do on the day they're staying with us. If their day is free, we can provide activities and spend time with them at Kingscroft.
The care we provide is person-centred and everyone who uses our service has their own care plan, which details their likes and dislikes and how they like to be helped.
We like to involve people who use services and their families in what we do and use questionnaires and interviews to encourage constructive feedback. We also hold regular family and carers support groups (run by an independent advocate) and arrange social events for families and carers at least every three months.
Our facilities
We have eight bedrooms, all of which have comfy beds, a TV and DVD player, a sink and wardrobes and/or drawers for storing belongings. Two of the rooms have hoist tracking.
Every bedroom is individually decorated in a colour theme with matching soft furnishings and creative touches. For example, our red room has union jack cushions and our silver room takes its inspiration from Hollywood.
We always try to accommodate people's preferences if there's a particular room that they like.
Our main lounge and dining area is an open plan, communal space where people can eat, listen to music, watch TV or take part in activities. We also have a smaller, second lounge and a sensory room where people can go if they'd like some quiet time.
Meals and drinks are prepared in our well equipped kitchen and we are experienced at catering for different dietary and health needs.
Kingscroft has two large bathrooms that have jacuzzi baths and ceiling tracking, and we have various commodes, shower beds and hoists to help with batheing.
There is lots of outdoor space including a patio area (weather permitting, we eat outside) and we have outdoor seats, loungers and a trampoline that people can use during their stay.
Referrals
Kingscroft accepts referrals from family members or carers, the individual themselves and GPs, although most come via care managers at the local authority.
The care manager contacts Kingscroft to discuss initial arrangements and to ensure that our service is suitable for the person they're referring. Once that is agreed, Kingscroft's manager then visits the individual and their family/carers at home to meet everyone and agree their visits.
Everyone who stays at Kingscroft is assigned a keyworker who makes sure we know everything we need to before the person comes stay.
We introduce people to the service at their own pace. For example, some people like to settle in with introductory tea visits where they can come along and get their bearings before they come and spend the night. Others prefer to come and stay overnight straight away. Either way, we're happy to go with what makes each individual comfortable.
Meet the team
Kingscroft has a large strong team who are highly experienced at caring for people with learning disabilities.
We always have staff on duty 24 hours a day. This includes;
three or four staff on duty during the day, to cater for people's differing needs
two waking staff at night, who attend to people overnight.
Staff are trained in all aspects of health care needs from administering medication, feeding (such as peg feed), catheter care, stoma care and epilepsy. They are also expereinced in working with people who have difficult or challenging behaviour.
Our team also includes a house keeper and dedicated admin support.
Everyone receives statutory and mandatory training and has a current CRB disclosure.
Contact us