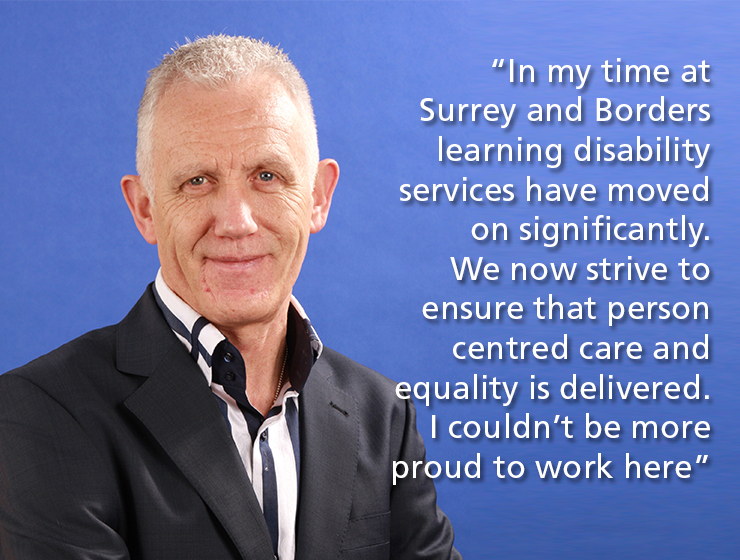 Phil is the professional lead for over 100 learning disability nurses in Surrey was involved when Surrey was among the first counties in the country to establish liaison nurses across all its acute hospitals and GP surgeries. He has an honorary lecturing role in learning disability nursing at the University of Kingston and University of London's joint medical school.
Even as a support worker more than 40 years ago, Phil worked to change practices for the better, taking residents of Surrey's long stay institutions for their first holidays and fighting for their rights to individual belongings, toiletries and food – basic rights we take for granted today.
Phil is passionate about removing health inequalities for people who have a learning disability and is one of the nation's experts in his field. He has won several accolades, including an Outstanding Nurse Leader award from The Nursing Times where judges described him as: "A passionate supporter of learning disability nursing."
In 2016 he and a team of consultant nurses from across the country were honoured at the RCNi Nursing Awards for their Health Equalities Framework (HEF) tool, a simple yet effective rating system to identify health inequalities in people with learning disabilities, as well as their causes and what can be done to tackle them.
Internationally, Phil has led work to establish partnerships to share good practice and has worked with student nurses from Finland for over a decade.
Phil is well respected by those he mentors and is a Foundation Trust Governor, representing the interests of all qualified nursing staff in Trust decision making.