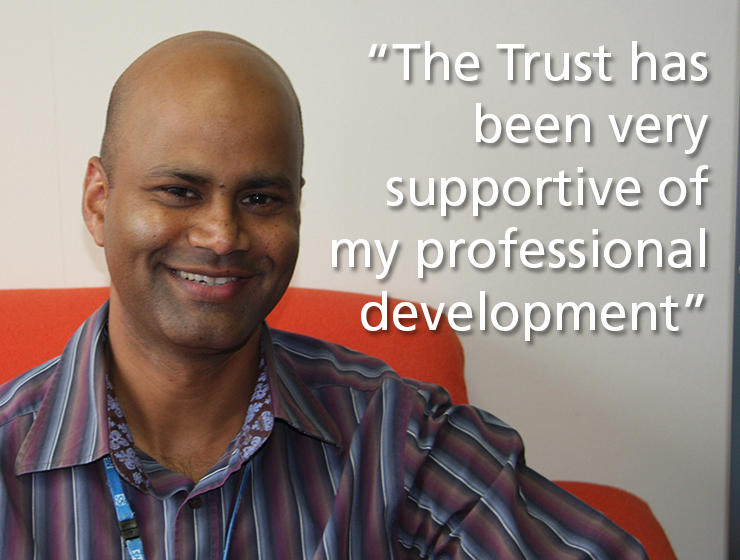 Sam is our nurse consultant for older adults and has been in the Trust for several years. During this time he has held a number of different positions, gaining experience of a variety of services.
Sam says, "I have been afforded great opportunities to develop as a nurse and have worked with people in mental health crisis and their carers in the community and on inpatient wards.
"It has been an enriching experience to spend time as part of many teams including the Crisis House, Crisis Helpline, a Home Treatment Team, and to work on wards both within mental health and acute hospitals in Surrey.
"The Trust has been very supportive of my professional development, enabling me to undertake further training in cognitive behavioural therapy, psychosocial interventions and being an independent non-medical prescriber.
"I have embraced the chance to combine my nursing experience with a variety of managerial posts such as team leader, ward manager, modern matron and service manager."
My BME background has never held me back
"Since joining the Trust in 1999, my BME background has never held me back. I have never felt disadvantaged in advancing my career or being given the opportunity to do so.
"I have applied for, and been successful for, various posts in the Trust and I am extremely grateful and appreciative that I have been supported to complete my Psychosocial Training , Independent Prescribing, Princes Project Management and various other training opportunities.
"It is important to highlight that Surrey and Borders has an inclusive culture where diversity is welcomed and celebrated; promoting an environment where colleagues from BME background can prosper and maximise their potential."