Calling all nurses
Make every day different, make a difference every day
Surrey and Borders is a great place to start your career as a nurse. We run a diverse range of services across a variety of settings and disciplines which will allow you to gain valuable experience before deciding which route to take.
We have close links with several universities and offer exceptional placement and preceptorship programmes that support you with consolidating your skills as you transition from a student to a qualified nurse.
People are our most important asset so we are proud to provide a supportive environment - we encourage our staff to achieve their ambitions throughout their careers.
Our approach is underpinned by our clinical strategy which reminds us to connect with people, their families and our community at all times.
There are plenty of opportunities to access further education and be involved in learning sets with your peers. You will be encouraged to think, reflect and explore ways of how you can continuously provide high quality care and we will support you to actively manage your career development.
Each of our directorates has an experienced consultant nurse who drives forward the nursing agenda in our multidisciplinary teams. We offer leadership programmes and individual coaching to help you build your career path whilst also delivering excellent nursing care.
A career with us could take you to interesting places.
Read our nursing brochure
Our rotation programme
There are many different opportunities within nursing and sometimes it is difficult to know which area is going to be most appealing.
We offer a rotation programme that provides the chance to practice different disciplines and gain valuable experience before deciding which route to take.
Our 18 month rotation scheme allows you to experience working for six months in three different areas of mental health: inpatient, community and specialist services.
You will work towards achieving a set of placement specific competencies and a leadership standard which will help you to stand out from the crowd when applying for Band 6 posts.
The rotation programme provides a support framework, skills development and learning sets in areas such as revalidation, human factors, career development and building resilience.
Area 1: 0-6 months
Inpatient wards (working age adults and older people's wards - functional and dementia)
Working age adult Home Treatment Teams
Area 2: 6-12 months
Community Forensic Service
Community Mental Health Recovery Service
Community Mental Health Team Older People
Clinical Risk and Safety Team
Area 3: 12-18 months
Acute Psychiatric Liaison Services
Criminal Justice Liaison and Diversion Service
Hope Day Service (Children and Young People)
Child and Adolescent Mental Health Service Community Teams
Eating Disorder Service
Meet Jo, our associate director of people's experience and head of nursing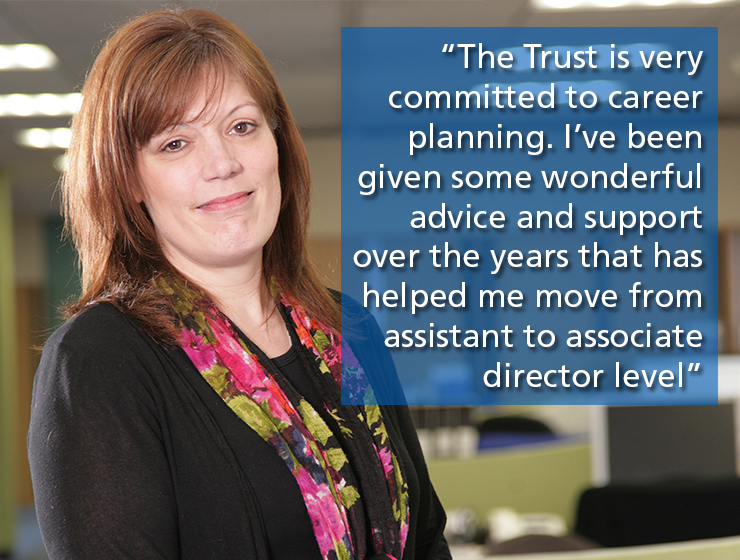 Jo started as a nursing assistant with our Trust over 20 years ago.
She was so inspired by the good work she saw happening she decided to train as a mental health nurse and returned to work for the Trust after she qualified.
During her career Jo has worked on our inpatient wards and with our community teams gaining a wealth of nursing experience. She has also been part of developing new services and has led a variety of different projects.
Jo is now our associate director of people's experience and head of nursing and says:
"It's the relationships I've been fortunate enough to develop within Surrey and Borders that keep me excited and enable me to work well with others to make a difference to people, their families and their carers."