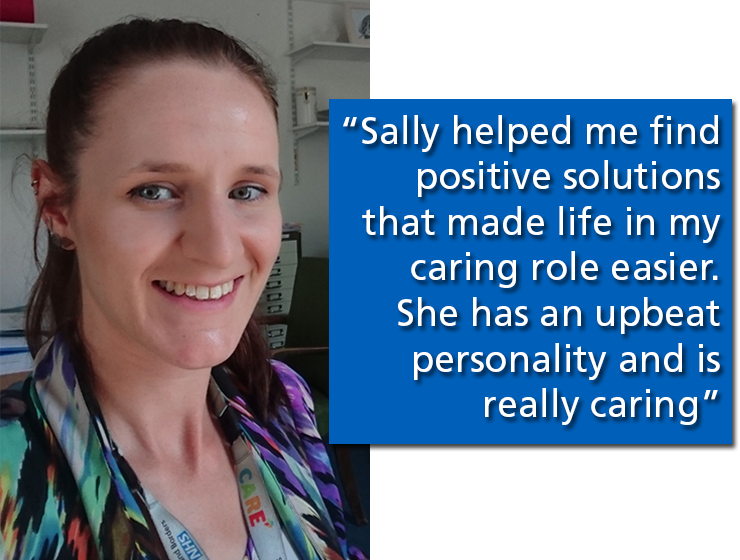 If you are caring for someone with a mental health problem you may be introduced to lots of different professionals.
For example, you might meet someone like Sally, pictured left, who is a carer practice advisor. Her role is to make sure that carers receive the support they need.
It might seem scary and you might not remember what role everyone plays but we want you to be reassured that all of our staff are really friendly. They have a responsibility to make sure that anyone who supports someone under their care is also looked after so it's ok for you to ask them questions.
Here we explain who and what some of the people you might meet do.
Social worker
Social workers often get involved if someone has social problems such as housing, finances or trouble accessing work.
Psychiatrist
A psychiatrist is a doctor who specialises in the treatment of mental health problems.
They assess a person's mental and physical symptoms to diagnose their illness. They also decide what treatment (which could be medication, therapy or a combination of both) might help them feel better.
As part of their work, they are usually the person who will admit someone to hospital if this is required.
Community psychiatric nurse
Also known as a CPN, this person is a nurse who specialises in the treatment of mental health problems. They are able to give anti-psychotic injections which help people who may forget to take oral medication.
Care co-ordinator
In some teams, the roles of social workers, nurses and occupational therapists can look very similar as they have learnt skills to support people with different needs.
A good example of this is a form tutor at school, they wear different hats e.g maths teacher hat, form tutor hat.
They help people by developing a care plan; this is working out what support or services someone needs, and who is doing what. They also talk with different organisations on a person's behalf if they can't manage or require assistance.
Psychotherapist
Psychotherapists look deeper into problems and worries. Therapy is usually undertaken over a long period of time and may involve art, music, drama and movement.
Family therapist
A family therapist provides sessions that help families to understand each other better, giving them an opportunity to talk in a safe space with professional support. This helps them build on strengths and make useful changes in their relationships and their lives.
Occupational therapist
This is someone who helps people to adapt to their environment and cope with their daily life.
They assess someone's ability to look after themselves e.g. washing, bathing, cooking and housework. They also work with individuals, either one-to-one or in groups with the aim of reducing loneliness and encouraging them to achieve more than they have been able to do while they are ill.
An occupational therapist will support an individual to build skills and confidence and identify hobbies and interests that really help with mental health.
Psychologist
A psychologist provides therapy to individuals either in one-to-one sessions or in groups and supports them to identify what may be causing issues. They help people to develop ways of dealing with and managing their condition in a healthy and positive way.
Carer practice advisor
Carer practice advisors work within our adult mental health teams to make sure that all carers, regardless of age, are offered the support they need. This could be by training the teams, delivering one-to-one support for staff, directly supporting the carer or making a referral to Surrey Young Carers.
Approved mental health professional
Also called an AMHP, these people are care co-ordinators or keyworkers that support people with a wide range of mental health problems.
The difference between an AMHP and a social worker is that an AMHP will carry out Mental Health Act assessments. This assessment is carried out when there is a need to ensure a person's safety. An AMHP becomes involved when someone is considered to be a risk to themselves or others.
Phrases commonly used by mental health professionals
When you are caring for someone you might hear professionals talking about things such as mental capacity, the Mental Health Act or sectioning. You can find out more about what these things mean here.
Mental Capacity Act
Capacity is about our ability to make decisions. We all make decisions every day and they can be about anything; some decisions are big and some are small. To be able to make a decision a person needs to understand what they are doing. Medication or changes in a health condition can affect a person's ability to make a decision and in these situations there is a law, called the Mental Capacity Act, that protects them.
This Act identifies if a person is able to make a decision by themselves or if someone else needs to help them. If you are looking after or supporting someone who may have difficulty making their own decisions this animation (available by clicking the image icon on the left) will help you understand more. You can find additional information on the NHS Choices website.
Mental Health Act or Sectioning
Being sectioned is when a person is kept in hospital and given treatment without their agreement. This shouldn't be done lightly so a set of laws have been written to protect people in this situation.
The Mental Health Act is the main piece of legislation that covers the assessment, treatment and rights of people with a mental health disorder.
Sectioning someone is always a last resort and is done to protect them and those around them.
Click the image icon on the left to watch a video from the mental health charity Mind that explains more about the Act. You can also find more information on the NHS Choices website.