All of our courses are taught by a recovery coach - someone who has lived experience of physical or mental illness either personally or through a caring role - and a professional.
Who are the professionals?
The Recovery College is a partnership involving many different organisations and the professionals who support us with delivering our courses may be employed by any of these organisations.
We are proud to have professionals with qualifications in a wide variety of therapies including art, dance, occcupational, psychology, pilates and yoga.
Who are the recovery coaches?
We believe that people who have experience of physical or mental illness themselves are often able to support others in their recovery because they understand in a way that a professional might not.
Our recovery coaches come from a range of backgrounds and are experts by experience who have shown that they are able to maintain the management of their condition, and that they believe in the philosophy of recovery.
All of them are willing to share the wisdom of their own lived experience to inspire hope and belief that recovery is possible, and they have all been - or still are - students at the college.
Every member of the team - volunteer or paid - receives training and supervision and we support the development of each recovery coach by helping them prepare for paid work in the future (if this is their goal).
Opportunities to get involved
We have voluntary and paid opportunities for any of our students who have an interest in supporting others with physical or mental illness and their carers in their recovery by sharing their own experiences.
You can become involved in the development, facilitation and evaluation of courses, in supporting the enrolment process, or developing prospectus and website content.
For further information or advice about getting involved please contact us for an informal chat.
Meet Carole, one of our recovery coaches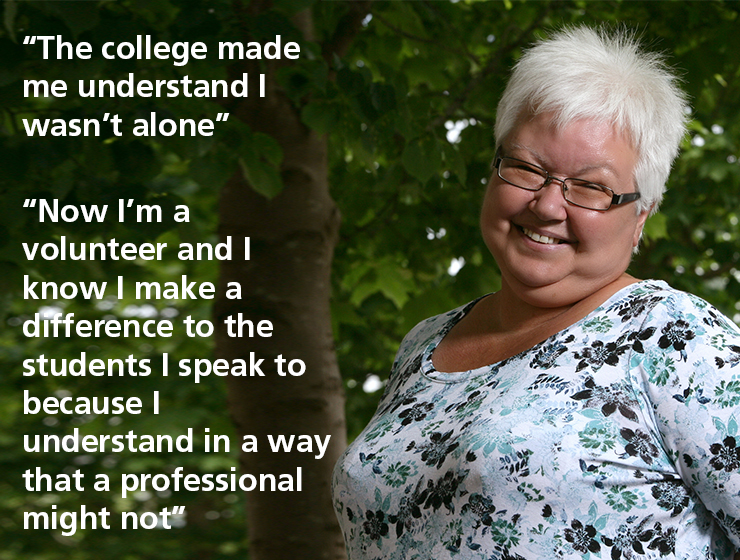 Carole has had borderline personality disorder for 43 years and now volunteers with the college. She shares more about her experiences with us here.
"I was experiencing continuous cycles of depression and anxiety that led to me attempting suicide.
"One day, whilst waiting to see my psychiatrist I picked up a leaflet for the Recovery College but it took me a long time to pluck up the courage to enrol because I'd never spoken openly about my condition.
"When I attended my first course I realised that so much of what other people were suffering from was the same as I was and it was such a relief to realise that actually it's ok to feel how I did because there are other people who feel it to.
"I'm a caring person and a good listener and Colette, a senior recovery coach, saw this in me and encouraged me to become a facilitator. My first response was "I couldn't possibly do that" - but eventually I realised I could.
"Being a volunteer has built my confidence and made me feel included again. I meet people who are nervous and help them find the courage to walk through the door and I also co-facilitate courses. Recently I developed a course on money management and I'm so proud to be part of an award winning team that donated 1842 hours last year to supporting people's recovery."