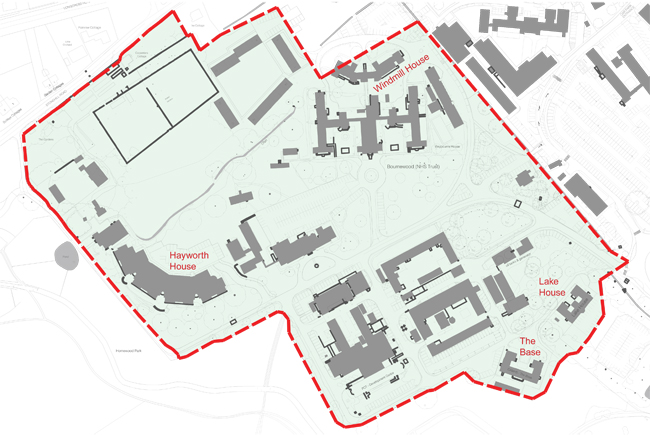 We own some land on the St Peter's Healthcare campus in Chertsey. Ashford and St Peter's NHS Foundation Trust, who run the acute hospital services on the site (St Peter's Hospital), own land adjacent to ours.
The buildings we have on this area of land are Lake House, Hayworth House, The Base, and Windmill House (now closed) plus some vacant buildings; the buildings Ashford and St Peter's have are staff accommodation, administrative offices and some vacant buildings.After completing some investigative work with our colleagues at Ashford and St Peter's, we have taken the decision together to sell this land. In November 2017, we submitted planning application to Runnymede Borough Council for the redevelopment of the land.
Please note: The Abraham Cowley Unit is not affected: please see map opposite for details.
Planning Application for St Peter's Healthcare Campus
Ashford and St Peter's Hospitals NHS Foundation Trust, Surrey and Borders Partnership NHS Foundation Trust and Optivo have submitted a planning application to Runnymede Borough Council for the redevelopment of surplus land at St Peter's Healthcare campus in Chertsey, Surrey. The application includes plans for affordable housing for NHS staff; open-market housing; a multi-storey car park; and an extension to St Peter's main reception to provide an improved customer café and retail offering.
The plans largely focus on surplus land on the western part of the campus. The intention is to secure permission for the redevelopment of the land for housing and sell it to directly fund improved local healthcare facilities and enable improvements to staff accommodation which will help the hospital attract and retain staff.
The money raised would:
Provide a new Accident & Emergency unit within an extended Prince Edward Wing at St Peter's Hospital
Provide significant funding towards refurbishing and redeveloping mental health hospital and community services which serve people in north-west, mid and east Surrey
The new housing will also provide much-needed homes in a borough which has a significant shortage of affordable housing and housing land.
The planning application is a 'hybrid' application, comprising applications for both outline and full planning permission. The outline application is for:
328 open-market homes, consisting of a retirement village and a mix of apartments and houses, on the west site
144 new and redeveloped affordable homes, primarily for NHS staff, 72 of which would be on the west site, and 72 on the eastern part of the campus
Two new, separate access roads for the west site from Holloway Hill and Stoneleigh Road to the north-west.
The full application is for:
The new multi-storey car park – this will improve patient access to the main entrance and replace spaces lost through the redevelopment of the west site
The extension to the main hospital reception area which will link to the new car park and will improve the entrance and waiting areas for patients and visitors.
Local Plan policies designate St Peter's Healthcare Campus as a 'major developed site' in the green belt. National and local planning policy demand that very special circumstances justify development in the green belt. The Trusts consider that these very special circumstances exist and include the overwhelming need for investment in St Peter's Hospital to accommodate population growth in north-west Surrey and the need to provide on-site housing for staff.
Valerie Bartlett, Deputy Chief Executive at Ashford and St Peter's NHS Foundation Trust, said: "We are very pleased about this latest stage in proceedings. This opportunity signals our commitment to improve the facilities in which we provide care to our local population. The resources will be used to improve a number of important facilities in our hospital, particularly for those people who arrive here in an emergency. We are also particularly pleased that this development will enable us to offer better quality staff accommodation, which is vital for recruitment and retention. The redevelopment will also provide much needed new homes in Runnymede, an area with a housing shortage."
Jo Young, Chief Nursing Officer at Surrey and Borders Partnership NHS Foundation Trust said: "We want people to experience our services in surroundings that are modern, safe and accessible. The capital we raise from the St Peter's development will go straight back into providing welcoming environments to those living in Runnymede and the other boroughs that we serve.
"We know that access to suitable accommodation is key to people's mental wellbeing, so we are really pleased that the development includes affordable housing. It will give those local people who might otherwise be left feeling isolated an opportunity to connect with their local community."
Notes
The west site currently houses a range of community mental health services for people of all ages and a drug and alcohol detox unit. These will relocate within the local vicinity, and people who use these services will be involved in deciding where best suits the services' needs. The area also houses old administrative and service buildings, housing for staff, and derelict areas.
The Trusts consulted widely with the public and other stakeholders earlier this year. Consultation activities included a preview of the plans for stakeholder groups and near neighbours, a public exhibition and a Councillors' workshop
The planning application can be viewed on the Planning area of the Runnymede Borough Council website using the following reference numbers:

RU.17/1815 for the hybrid application
RU.17/1816 for the full application
Plans for Land at St Peter's Hospital
Why sell the land at St Peter's?
We are selling the land so that we can raise money to put towards improving environments at our hospital and community services. Doing this will help us fulfil our values to create respectful places and treat people well.
What are the plans for the land?
We have submitted planning applications to Runnymede Borough Council, with the intention that the land is sold with planning consent for housing development.
As well as creating new housing, Ashford and St Peter's Hospitals Foundation Trust plan to improve and extend the NHS staff accommodation on the site.
I/some I care for uses a service in Lake House, Windmill House, The Base or Hayworth House. What is going to happen to those services?
The services in those buildings will relocate. We understand that the prospect of relocation is unsettling; however, we would like to reassure you that it will not happen straight away.
Once the plans are approved at Runnymede Borough Council, we anticipate the sale of the land to complete in Summer 2018 at the earliest, which gives us time to consider where and when to best relocate.
It's possible that we may create a new hub in the local area where our community services could go. We have done this successfully with our services in Frimley and Redhill. Read more about our Community Hubs work.
We will also look for suitable alternative accommodation for our drug and alcohol detox service, Windmill House, to be based alongside our other hospital services.
However, we will be exploring our options for all of the affected services over the coming months and will be involving people who use our services and their carers in those discussions, to ensure the buildings and locations we choose suit the needs of the service.
What happens next?
The proposals for the land were shown at a public exhibition in April 2017 and our planning consultants WYG gathered people's feedback via a consultation questionnaire. This closed on Thursday 11 May.
We submitted planning application to Runnymede Borough Council in November 2017.
We will keep staff, people who use our services and their carers updated with any progress we make with this project over the coming months.